September 20, 2007 at 4:28 pm
#236905
Gordon
Participant
@suntansailor
I finished the rebuild finally and here is the end result.  I used solid Zebrawood to fabricate the dash; new steering wheel with MG emblem; new chrome turn signals as these were coroded; installed a heater core shut off valve to kill the heat that seems to creep up on you while driving in the summer; new wide whitewall radials that really handle nicely; and I put in a kick ass CD sound system (I hid it behind the glovebox door for security and asthetics).  I installed two custom speakers into the dash, and two more in the rear storage lid.  The stereo sounds great even while driving at highway speeds (I think I am 18 again!  LOL). 
Notice the "MG screw covers" on the yellow center gauge console.  I found those at Moss Motors.  Kinda cool touch… 
Lastly I installed two L.E.D. brake/turn lights (high up on the false fuel tank) as people do not see the original dim lights in bright sunlight…just like the real TD's.  The L.E.D. lights make a huge difference for safety when toolin' around on a hot sunny day, and you know people will see your stop lights on!
The latest is I have been approached by a local advertising agency this summer that does TV commercials nationwide…my car will be featured in 2 different TV commercials in late fall 2007/early 2008.  Look for them; one is a gum commercial and the other is a shampoo commercial!
Gordon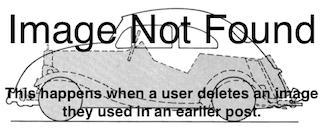 suntansailor39379.6003472222